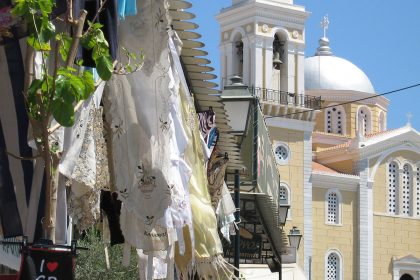 The Kalamatian scarf
The local art. the local Kalamatian songs in Greece, Kalamatian scarves continue to be woven on looms. You will find them in the shops around the temple of Ypapanti. Important for you know: the genuine Kalamatian scarf is monochrome.
At the Quilt of Kalamata
Paved, traditional cafes, small shops, barbecues and ouzo bars next to each other. Enjoy a walk in this neighborhood, in one of the most vibrant parts of the historic center of Kalamata.
Secret arcades
Going down Aristomenous Street, you definitely have a pass from the Lontos and Varvoutsis porticos , which are crowded with people and tables.